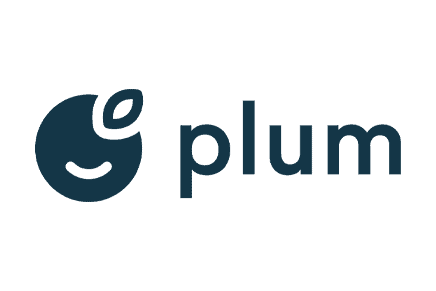 Use promo code "7KGAHJNQ" for sign up bonus.
Plum Investment App
Review
Plum is kind of all-in-one financial wizard, making your life easier by saving money, investing in stocks and index funds, and identifying the best energy providers to help you save and grow your nest egg.
Even though plenty of people make serious money playing the markets, most people stay away for fear of making a mistake and losing money and when you are completely new to the concept of investing, the concept can seem daunting.
Wouldn't it be great if you could set money aside, save on bills, and invest money on a weekly basis?
Fortunately, you can now rely on apps like Plum to handle all the hard work for you. The best part is that it is completely free and easy to use.

That sounds great, doesn't it? But how do you use Plum? Getting down to the nitty-gritty of how the Plum app works…
Plum is an app that utilises AI to help you stay on top of your finances.
A kind of all-in-one financial wizard, Plum makes your life easier by saving money, investing in stocks and index funds, and identifying the best energy providers to help you save and grow your nest egg. It will also give you feedback on your spending patterns, so you can better manage your finances in the future.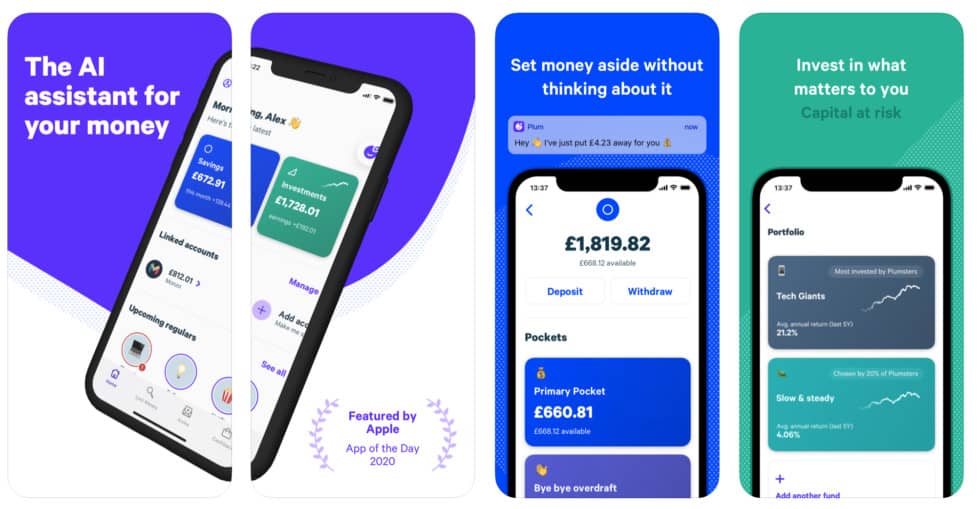 Plum is essentially an AI robot. Using your bank account, it can make real-time decisions about your budget and how much you can save each week. It can also help you decide how much money you can invest – whether it is a small or large amount. Your account is entirely in your hands. Plum cannot and will not just remove hundreds of thousands of pounds from your account.
Two Cypriots – Alexa and Victor – created Plum when they came up with an algorithm that would monitor the balance of their accounts to make small savings here and there when the time was right. After years of fine tuning, the algorithm eventually developed into a more advanced AI capable of analyzing a bank account balance and determine how much money can be set aside at any given time.
Shall we try an example? Let's say your account always contains at least £1500, and you would like to save £100 each month. As soon as you tell Plum AI that your goal is to save £100 a month, it will take money from your account every few days in little amounts to reach your goal within the timeframe.
This allows the AI to stow money without you noticing; making stashing money as painless as possible – Plum pops all the money into your Plum account ready to invest or spend.
Plum is available from the App Store and Google Play for Android and iPhone users. It's free to use, but if you want to invest you must pay a monthly fee of £1 per month – although there are better vehicles such as Freetrade for this sort of thing.
You need an email address to set up your Plum account once you have the Plum app installed on your phone. The next step is to securely link Plum with your bank account. There's no need to worry about this process – all you need to do is enter your details and follow the instructions.
Once you have configured Plum correctly, you simply need to instruct it how to start setting aside money for you. Plum has a default saving mode called "Normal". Most people should probably start here until you get a better sense of how everything works in the app.
Or for those more adventurous, you can save money faster with Plum's several extra saving modes. These are:
Eager – 25% more than Normal mode
Ambitious – 50% more than Normal mode
Beast Mode – 75% more than Normal mode
When you use Plum, your money is stored in an electronic wallet. Plum uses PayrNet for its e-money account which is secured with 100% bank grade encryption.
Withdrawals are also available at any time; there are no time limits, and your funds should appear back in your normal bank account within 30 minutes.
—
Top Tip: Try not to constantly check your Plum balance too regularly – perhaps once a month – otherwise, you might be tempted to spend away all of Plum's hard work and undo all of your excellent savings.
—
Is Plum safe? That is obviously the first question on a lot of people's minds. Because you're giving it access to your bank account, you should be 100% sure it's a reputable company. As a result, I opened a second account – my OCD just couldn't bear the idea that something might go wrong.
In the end, I didn't have to worry; Plum is extremely safe to use. In the same way as Apple Pay and Google Pay, it has limited access to your actual account information. Plum's access to your account is restricted to read-only, meaning that it cannot access your account information or change anything about your funds.
According to Plum's blog, here's how it all works:
"We never have access to (or store) your bank login details, and are granted read-only permission to your transaction data, so in the unlikely event of a breach, no money can be transferred out of your bank account. In addition, we also use symmetric cryptography (AES) to store any sensitive data, with 256-bit TLS encryption to communicate with our servers (which run on Amazon's cloud–trusted by some of the biggest financial institutions in the world!)"
Plus, there is FSCS protection for funds in Plum's Interest Pockets (available as part of Plum's Plus/Pro subscriptions) meaning if Plum were to go out of business, your money would be protected by the FSCS – designed to protect customers against dodgy banking activities.
Is it worth downloading Plum as your autosaving app of choice? Considering the above, Plum is probably a good option for the majority of people.
Using only the free savings feature to set money aside automatically is sufficient. It's not uncommon for people to say they don't have the money to save, but with Plum you can (and you won't even notice) – even a little bit of saving goes a long way.
For those wanting to do more investing and set up different saving pots for different purposes – you're going to want to take a look at the Plum Pro app which is well worth £2.99 a month but there are other options out there such as Snoop, Chip and Freetrade that may suit your needs better.