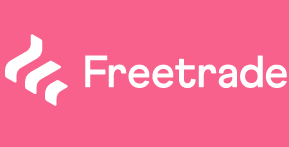 Freetrade
Review
Freetrade is a mobile-only stock trading app offering low fees and ISA/SIPPs for tax efficient investing.
What is Freetrade?
Freetrade launched in the UK in 2018 with the simple aim of providing a cheap trading account to new investors. We offer a simple low-cost account without all of the fancy tools and guides that other brokers provide, but what you do get is a low-cost share trading account that allows you to build up your portfolio starting from just £1 – all powered by a very well designed mobile app.
It was founded by a team of former bankers who had worked at the large international audit firm KPMG. The platform's unique selling point is that its app lets users buy and trade real stocks with no commissions or fees via their smartphone.
What are Freetrade's commission fees?
With a name like "Freetrade" it probably comes with no surprise that it is free to buy and sell investments via the mobile app. Coupled with it being extremely easy to setup and invest with no additional costs, it makes things a lot more convenient and attractive for the casual investor.
Freetrade do offer some accounts with more premium features that come with an additional charge.
Within the free trading level; you are able to most of the basic share dealing functions whilst adding a stocks and shares ISA with cost you £3/month.
The Freetrade Plus account, which includes use of an ISA account, more advanced share dealing such as limit bids and unlocks more premium ETFs and stocks costs £9.99/month.
Similarly, the new SIPP account offering is a flat £9.99/monthly charge (or £7/month for Freetrade Plus customers).
It's worth noting that while share dealing is "free", ETFs may also have separate fund charges which you will need to be mindful of and Freetrade do charge an FX rate equal to the current spot rate plus 0.45% although this is extremely competitive (most competitors charge a spot rate plus at least 1% in fees).

Is Freetrade easy to use?
A Freetrade account can be opened within the app in a matter of seconds. Follow the instructions and enter the required information (such as your National Insurance number). Customers can directly access customer service chat features through the app and the Freetrade website also offers comprehensive FAQs and additional resources.
Freetrade has an active user community where people share their thoughts and insights. They also have a blog that is updated regularly with useful information. Unless otherwise specified, any investment information or expert advice provided on Freetrade's website should not be regarded as personal advice, and it is intended for investors who are comfortable making their own investment choices. It's a good idea to consult with your own independent financial advisor if you're unsure about an investment's suitability for your circumstances.
Freetrade Review: Verdict
If you've never invested before or are just curious about the procedure, Freetrade is a good place to get started. We found the platform to be extremely user-friendly and Freetrade's commission-free trading environment combined with a £2 minimum investment makes it a great place to start.
You may not be able to find everything you need with Freetrade if you are an experienced investor looking for the widest range of investments and investment options but it should be noted that Freetrade's product list is constantly being updated and improved, so there's an extremely broad choice that is growing by the day.
Freetrade is the platform to choose if you want a simple and cheap option for investing in the UK.